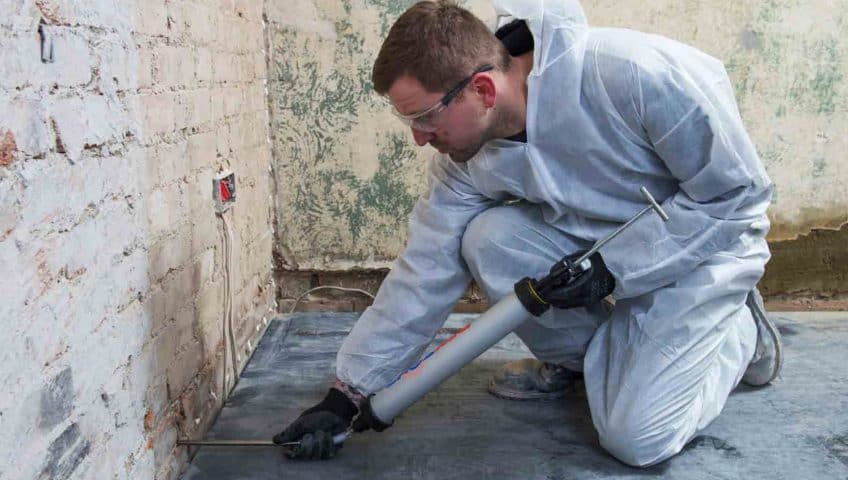 What is Damp Proof Course (DPC)?
Every house should have a protective damp proof course layer in the walls of the property. That will help prevent moisture from move up the walls and into the living area from the ground below and surrounding the wall foundations. If your damp proof course DPC has failed or in some cases non-existent, then this is commonly referred to as rising damp.
What is rising damp?
If you live in a property with no Damp proof course layer, or DPC Injection to your walls then often ground water and in some cases drain water will be absorbed and rise up through a capillary action. This moisture then rises through the walls, mortar, plaster, concrete and over time will make your internal plaster pop or crumble, often creating damp spots on internal walls, and eventually lead to mould.
As Damp Specialist London the most common question we get asked is "what can you do to combat a rising damp problem?"
Slate or Black Plastic Damp Proof Courses (DPC).
When a house or extension is first built it is easy to combat potential "rising damp problem" and today forms part of standard building regs. A specialist damp proof layer is fitted to create barrier between the bricks at floor level, and the bricks above, stopping that moisture from climbing up the walls and entering the home.
With some old London properties, we find slate was used as a kind of DPC material, however today most modern builders will use durable water-resistant material and most widely available method these days is a specialist damp proof plastic membrane.
You can find your DPC by taking a look at your external wall. Look down at ground level and look up about 6 inches or so up the wall. Somewhere around here you will see a thin black line of either slate or plastic running horizontally across the brick work. This is your DPC. Before any damp proofing treatments are conducted our surveyors make a thorough check and survey around the whole of the house – water can be clever and enter in multi DPC failed areas.
Don't think you have any DPC?
If your home was built ins the last 100, the majority of homes will have some form of DPC, however some DPC's get damage, degrade or through vermin, building or home improvement work become susceptible to damp penetration.
Fortunately, with London Damp Specialists, we can fix failed DPC and take fast remedial actions to clear and future prevent rising damp penetration.
If you think that your home may have a damp problem and your home is showing signs of rising damp problems, then we recommend getting a survey from a damp expert.
How to fix rising damp and damaged DPC's
There are now a wide array of different chemicals and specialist damp proofing gels that can be 'injected' into your walls to create a protective DPC. Often, this type of treatment is cheaper than installing a physical Damp proof course into an existing wall.
We offer a professional and qualified damp surveyor, with the right equipment to complete the initial assessment.
How much does DPC injection cost?
We often find we are working on a typical London Home, such as a Victorian mid terrace, in which a Damp proof Course DPC injection might cost as little £500- £800. As you might image prices can vary greatly considering the length of wall that required treatment, how far the damp has risen and any additional remedial action we need to take. The DPC injection process is simple, and once the job is done, it will last for many years.
If you would like to find out more or discuss your specific rising damp issues or failed damp proof course: 0208 226 6330 or [email protected]
Request a Survey
Call us on 020 8528 3864 or fill out the form below with your details