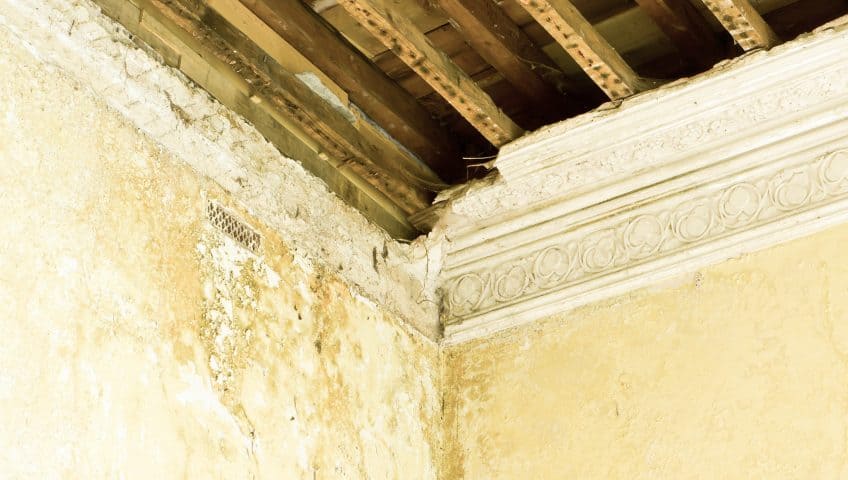 Water Damage
Water, Water Everywhere…
Water damage to a property can be distressing and expensive. Whether the damage is a result of a leaking pipe, either from your house or from an adjoining property, or a leaky appliance, or there's been a slow ingress of external water; the damage can be extensive.
The first thing to do is isolate the cause. If it is from within your property, turn off the water at the mains to prevent any further water entering. If it is from a neighbour, let them know and advise them to turn off their water. Take photographs of any visible damage – you will need these in the event of an insurance claim.
Remove any damaged or affected soft furnishings to prevent the spread of damp and mould – carpets, curtains, sofas, mattresses, whatever is in the immediate vicinity – and leave them to dry. Call your insurance company as soon as you can. Hopefully you will be covered, but bear in mind they may not pay out if the damage is deemed to have been caused by a design flaw in any building work that's been done. This is one (of many reasons!) why it's vital you always look for a trustworthy and reliable construction or home improvement work company.
Your insurance company will probably either send out a surveyor to assess the damage, refer you to their preferred supplier of damp solutions or ask you to contact a damp expert yourself – like London Damp Specialists. We would survey the damage and send a report which would include readings from a damp meter and images of affected areas. Subject to their approval, work would begin to restore your home to its habitable, dry and safe condition.
What is the likely course of remedial action?
It will depend on the extent and cause of the damage, but typically work would include: removal of any damp plaster and floorboards; using a humidifier to dry out affected areas; adding a salt neutraliser to affected walls to dissolve any salts present from water penetration; applying waterproof sand and cement interior – and if appropriate, external render. Professionals will be able to identify exactly what treatment you property requires and tailor the water damage solution to you. It could include methods we use for condensation solutions or timber preservation. Every property will be different when it comes to water damage.
Whatever the cause of the problem, the main point to remember is not to panic and act as quickly as you can to stop any more water damage. If you own a home or property that has previously suffered water damage and are worried about any long term effects, seek professional advice.
Request a Survey
Call us on 020 8528 3864 or fill out the form below with your details